Company News
What if the baby pacifier sucks?
Publish Date: 2019-07-03 Click: 1155
What if the baby pacifier sucks? Why is the nipple sucked? In fact, there are many possibilities, perhaps because the bottle is too tightly screwed, the nipple can not breathe, otherwise the hole will be compressed and not ventilated, the baby will be flat as soon as it sucks. It may also be that the size of the nipple is too small, the flow rate is too slow to meet the needs of the baby, which is also one of the reasons for the baby to suck the nipple.
What if the nipple sucks? Make sure that the vent orifice is facing the nose when drinking milk. Secondly, don't tighten the bottle too tightly to make the nipple unable to breathe. Dry the contact surface between the nipple and the bottle orifice by drawing paper separately. Especially, the water in the air orifice of the nipple contact surface should be sucked dry. Don't tighten it too tightly, otherwise the orifice will not be compressed and airless.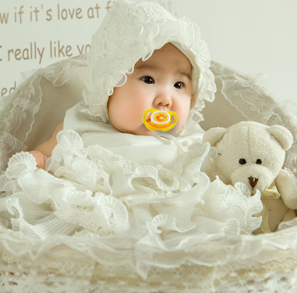 As soon as the child sucks, it becomes negative and the nipple is flat. If it is not to check whether the baby is drinking too fast and too fast, the flow rate of the nipple can not keep up, this situation suggests changing the baby to a larger size of the nipple; to consider whether the size of the bottle is suitable for the baby's feeding needs at this stage, some mothers directly buy 260 ml of large bottles without consultation when purchasing, if the baby is only 1 or 2 months, this is the case. When the milk volume is relatively small, usually only tens of milliliters per meal, when the baby directly uses 260 ml large bottle, because the upper empty section of the bottle is too much, the upper air intake can not work properly and cause the nipple to collapse! Warm Tip: Babies under 3 months are advised to buy 120 ml baby bottles.
You can turn the bottle upside down. It's more appropriate that the milk can be quickly dripped out drop by drop. In addition, when feeding the baby, make the milk full of pacifiers, not half of the milk and half of the air, so that it is easy for the baby to breathe in the air and cause hiccups, while causing absorption fatigue.