Company News
Is the wide-mouth silicone bottle feel soft or hard?
Publish Date: 2019-05-07 Click: 1212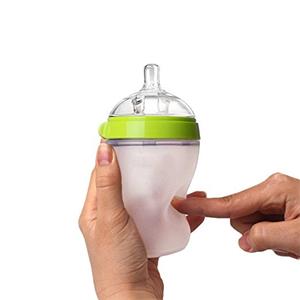 Is the baby wide mouth silicone bottle safe? Is the bottle soft or hard to the touch? Silicone bottles are popular with more and more parents because of their many advantages. Baby wide mouth silicone bottle is an environmentally friendly bottle with strong transparency, tear strength, rebound resilience, anti-yellowing, aging resistance and heat resistance. The features are safe, harmless, soft, convenient for washing and disinfection, and easy to carry. The silicone bottle is soft to the touch and close to the skin of the human body. It plays a soothing role for the baby. A good silicone bottle should have good elasticity. The elasticity of silica gel is different from rubber: it is not the kind of hardness of the hard state. The elasticity of silica gel is soft and delicate. At the same time, you can try the hot water in the bottle, and the feeling after loading the water will be more like the skin of the human body.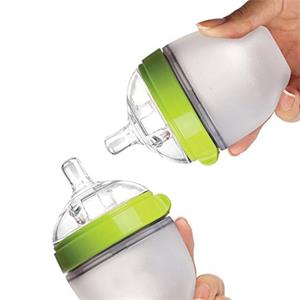 Silicone Bottles Due to the nature of the silicone bottle material, the bottle can be used with a nipple and a spoon. It is suitable for babies to start porridge or soup, or as a food storage. The USSE Multi-Function Baby Wide Silicone Bottle is made from soft silicone for added safety and comfort.
Simply squeeze the bottle gently and the right amount of food will flow into the soft spoon. Bottles can also be used in microwave ovens. Bottles made of soft silicone are safe and durable. The wide mouth silicone bottle can be used for a long time, just replace the nipple. Suitable for use by babies of any age.
Nowadays, the soft bottle on the market has also been welcomed by more and more parents. The whole bottle of soft bottle is injection molded with food grade liquid silicone rubber. The line is beautiful, the curve transition is smooth, no burr, and the texture is good. The whole bottle material is the same as the nipple material. It is food grade silicone rubber, safe and non-toxic.
silicone baby products: www.hcsilicone.com
silicone baby bibs: www.hcsilicone.cn
For more information,
please login in: http://www.hcsilicone.com/articles/info.html
Skype:caiyuan991