Company News
Enjoy your favorite lunch wherever you are with USSE 3 compartment silicone folding lunch box!
Publish Date: 2018-11-28 Click: 230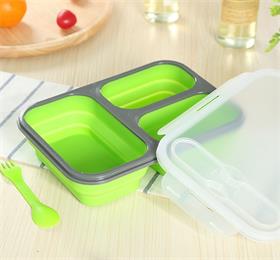 Eat Healthy Food Daily Keeping with your family's healthy eating habits can be difficult when they are out at school or at work. But with the USSE 3 compartment silicone folding lunch box, bento collapsible food container, your loved ones can always pack highly nutritious food for their lunch and enjoy the best meals always. Designed to hold anything, from sandwiches, pastas, fish to soups, the lunch box will allow you to enjoy your favorite food wherever you are.
More Space, More Food Our folding lunch box has 3 separate leak-proof compartments which are spacious enough to hold plenty of food. You can even include a main meal, vegetable or salad side and a sauce or dip side. And when the food is finished, you only need to compress the lunch box to a 1/3 of its expanded size and store it in your bag as you travel back home. Go Green! Made of non-toxic, food-grade, BPA-free, FDA-compliant and environmentally friendly silicone and biodegradable plastic, the collapsible folding lunch box is safe for both users and the environment.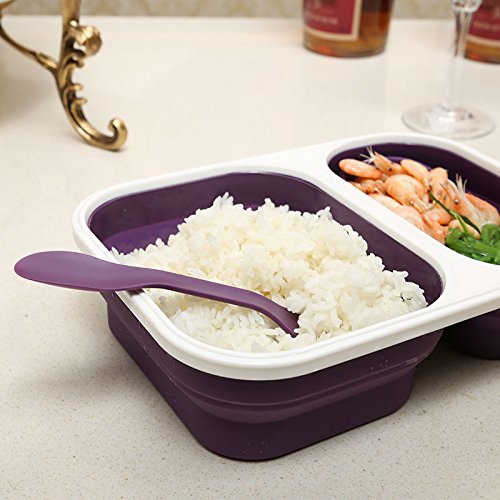 Here is why you should get this lunch box. 100% food-grade silicone keeps your family completely safe. Box is super-easy to open and close, even by kindergarten fingers. 3 leak-proof compartments provide lots of space for food; and multiple boxes are easy to stack. Ideal for school, office, camping and travel. Dishwasher, freezer and microwave safe. Collapsible 3-compartment design 600ML, easy to carry and save space;with a convenient 2-in-1 fork in the lid.Include 3 compartments, great for fruit, lunch and snacks.
Vacuum seal lunch box containers keeps foods secure and fresh;The heat-resistance temperature range is -20~120℃, will not deform in oven, microwave, fridge and dishwasher.Notice:Remove the lid before microwave. USSE this 3 compartment silicone folding lunch box containers are made from 100% Food Grade PP & Silicone, Non-toxic, Eco-friendly. Super smooth surface of the inside to avoid greasy and very easy to clean.
Perfect for food storage, such as home, bar, restaurant;
Also outdoor activity, such as work, camping, hiking, travel and more.